5 Small Things to Keep In Mind for August 25, 2022
1) E10: CAMP Launch Event
This week on Monopolies Killed my Hometown I share a replay of the launch event for the Canadian Anti-Monopoly Project from August 11, 2022.
Myself, Keldon Bester and Robin Shaban were joined by Barry Lynn with the Open Markets Institute and Stacy Mitchell from the Institute for Local Self Reliance. We talked about our vision, hopes and goals for CAMP, and Barry and Stacy shared their experiences as part of the anti-monopoly movement.
---
2) Boom or Bust with Tony Clement
Robin, Keldon and I had an engaging conversation with Former Minister of Industry, Tony Clement. He told us he prepared some new, different questions, and he delivered.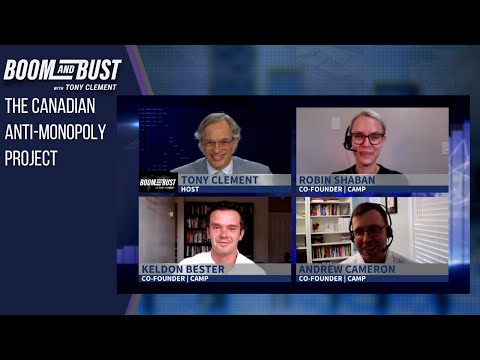 ---
3) We Made the Financial Post
Well, a criticism of us made it into the Financial Post. I don't mind criticisms, I just wish the author of the criticisms actually engaged with our arguments. I mean, we never argued about eggplants and cauliflower. Oh - you'll never guess where he works? - The Fraiser Institute
In episode 3 of the Monopolies Killed My Hometown I talked about MacKenzie King had to preface any anti-monopoly comments with "I'm not saying big is bad." That was 100 years ago and he had to do that. In this piece the author assume's we hate all big businesses, and uses that to dismiss our arguements.
My thoughts are you only try to dismiss an opposing argument in this manner when you can't back up your side anymore. There's been 40 years to show that consolidation is going to be good for Canadians, and it hasn't been. Anyways, when someone just dismisses you're arguements like this it's not worth arguing over inidividual points.
The link to the op-ed is above. Read if you want.
---
4) No more banks on Grand Manaan
Previosuly I wrote about the only bank on Grand Manaan announcing it was going to close.
Well - it closed yesterday. It's a shame. A community bank is essential for a community.
---
5) What a Video Difference?
Growing up in Amherst you could rent movies at Video Pro, Video Difference, Hoppers Convenience, the Irving, the Laundromats and eventually Blockbuster. The Video Difference had free popcorn available while you browsed, and all the "adult" movies were behind a pair of swinging saloon style doors. Our membership numer at Hopper's was 825, and you could rent Betamax movies at Video Pro. The weird things I remember.
Two tweets I saw that made me think about these things and monopolies:
It seems like letting media companies and streaming services combine may have actually given us less choice.