5 Small things to keep in mind for June 10, 2022
---
1)  Another great podcast listen
Adam Conover had a great conversation with Cory Doctorow on Factually! With Adam Conover. They talk about how the lack of anti-trust enforcement has led to the internet being controlled by 3-4 giants.
My favorite story is how anti-trust enforcement towards IBM in the 60s and 70s created space for Microsoft. Then the anti-trust enforcement of Microsoft in the 90s created space for Google and Facebook. But, the lack of anti-trust enforcement of Google and Facebook has removed the space for new competitors.
---
2)   An example of monopolies stealing local decision making
The subject of this article is 40 minutes away from my house. TL;DR: a local counselor was making smoothies made of local food and taking it into the local schools. The school board (It's technically not a school board anymore, but I digress) decided that all food in schools must be bought from one supplier located three hours away.
---
3) Old Editorial Cartoon of the week
I'm a huge fan of this cartoon. We need to shine a light on our economy and our businesses today. In the last episode of my podcast and the episode coming next week I look at the article "Trade Secrets of the Combines Detectives" by Peter C Newman from Macleans in 1958. The director of investigations could start investigations and compel information from businesses and industries. In 1958 they did 100 investigations. What would we find if we did 100 investigations today?
---
4) Another example of monopolies stealing local decision making
From the Globe and Mail, private equity and consolidating firms are buying up locally owned vet clinics, optometrists, dental care, and pharmacies. Aside from the locally-owned vet clinic, this has happened, or is happening. The owner of that vet clinic worked with the local women's shelter to create a program to look after the pets of women fleeing intimate partner violence. A number of women wouldn't leave an abusive relationship because they didn't know what to do with their pets. I know it costs the vet clinic to look after the animals and help with the program, but the owner knew this was an important service to offer to help our community. If we lose the local ownership of businesses like vets, dentists, and pharmacies, will we also lose the people that will take the initiative to create programs like this? Then are our communities better off? I'd say no.
---
5) #BeingBlackOnline: The Monopoly Next Door
Check out the video from Color of Change about how Big Tech monopolies are hurting small Black-owned businesses.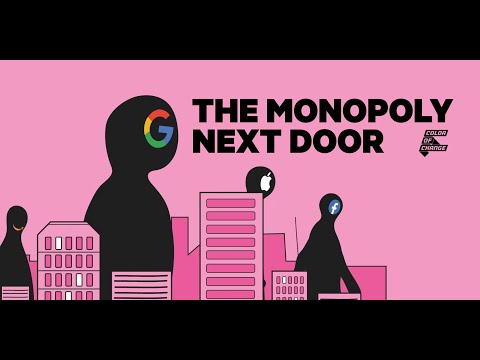 ---