At least it wasn't more than 34%.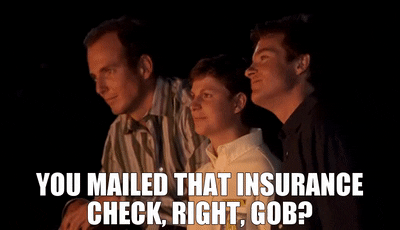 In 2020 the cost of our property insurance increased by 34%. In 2021, it increased another 9.36%. Between 2019 and 2021 it increased 47.26%. This is a cost that is passed on to our tenants through rental increases and higher rents. ((For this comparison I compared the replacement cost, rental rate and property rate for one specific building year-over-year. I didn't look at total policy premiums because we were constantly adding on new buildings.))
I am still angry about a 34% increase in one of our essential costs. Any mortgage company requires you to have insurance.((Most mortgage companies require insurance and that they are named as a loss-payee, so if there is a fire or other issue, the mortgage company will get paid. To get a mortgage you must have insurance. I mean you should have insurance on a large asset, but if you own them free and clear you don't HAVE to have insurance.))
I thought I had options and that companies would compete for our business. Turns out I was wrong. I didn't have a choice; I had to accept the 34% increase. Our broker said to me, "At least it wasn't more than 34%." That's not comforting, and it still makes my angry I had to just accept that massive price increase.
This lack of choice makes me suspect there are competition problems in the insurance industry, which are contributing to our affordable housing crisis.
Primer on Multi-Family Property Insurance
First, they are commercial policies. They incorporate commercial liability insurance for the business, insurance on the properties, and insurance to cover lost rents while a claim is in process. You can add vehicles, equipment and other coverages too. In this post I'm just looking at our cost to insure our buildings.
There are 3 variables used to calculate the base premium for a multi-family building:
This rate is essentially a risk assessment of your company and is determined by previous claims, total claims in the industry, age of buildings, and other factors that I don't quite understand.
This is the rate charged per dollar of rental revenue. This will replace the lost rent during an insurance claim.
Replacement cost of building
This is the value assigned to clean-up and replace the building in case of a total loss.
This is the basic calculation. You can adjust deductibles and add on other specialty coverages that will change your premiums.
In my situation, the insurance company determines all 3 of these variables. Unsurprisingly each year the replacement cost for our buildings, our property rate, and our rental rate all increased. ((As I outlined before, I believe consolidation in construction supply is increasing construction costs. In theory, resolving that consolidation and lowering construction costs would also reduce the replacement cost for our insurance and reduce our insurance premiums. ))
Lack of Competition?
In 2020 I decided to shop our insurance policy.((Prior to 2020, my Uncle and his family owned and ran an independent insurance brokerage. They looked after all of our insurance needs. In the Fall of 2019, they were purchased by a larger brokerage chain. Consolidation of independent brokerage firms is another whole discussion.)) I chose 3 brokerages to ask for quotes:
our current brokerage,

a different brokerage in town, and

another broker marketing a policy designed for apartment owners.
I sent all my info to the insurance brokers, and they sent it out for quotes from insurance companies.((There is a difference between an insurance broker and an insurance company. The insurance company – Intact, AVIVA, Great West Life – issues and underwrites the actual insurance policy. The Broker is the company that sells the policies to the customer and can usually represent many insurance companies. Usually a person deals with an insurance broker and not the insurance company. Insurance agents just work for one insurance company – think Sun Life Advisors.))
The following week I got a call from our current broker asking who else was providing quotes. It turns out that insurance companies will only provide quotes to one brokerage at a time. Since the new broker had requested quotes first, the insurance companies would not talk to our current broker. I thought that by going to 3 different insurance brokers I'd have options and have lots of competition for our insurance policy. Turns out that I was wrong. ((This may be why we are seeing so much consolidation of independent insurance brokerages. Most small independent insurance brokerages are being purchased by larger brokerage chains, some of those brokers are now being bought by brokerages owned by Insurance Companies. See BrokerLink (owned by Intact) buying Archway Insurance.))
Even then it became less competitive quickly. Going back through my emails, our policy was sent to 16 different insurance companies for quotes:
11 companies declined to provide a quote, and we only received 5 quotes back.
Even with these five quotes our current insurance provider was the best deal with an increase of ONLY 34%.((I've got to go back through my policies. I also think the insurance companies put caps on the amount they would pay out based on water damage.))
All I've heard since then is that it's a 'hard'-market. Prices are going up because more claims are being paid out than the insurance companies planned for and their profits are lower. They claim the property insurance industry is cyclical and that insurance premiums will decrease in the future. I'm skeptical of that.
My suspicion is that the insurance industry is a non-competitive industry, and this lack of competition is allowing insurance premiums to increase as drastically as they have.
My belief is in a competitive market, any business trying to raise their prices 47% over two years would be underpriced by a competitor. That's how the 'free-market' is supposed to work. And it's not happening here, or at least it isn't for me. I suspect it's only going to get worse as large insurance companies consolidate.
For example:
Hub to acquire Aviva Canada subsidiary
Intact Insurance to Offer 9.5B to buy RSA Insurance
What does this mean for the rest of us?
Higher housing costs and unaffordable housing.
What needs to happen?
The Competition Bureau, or other agency, needs to investigate the state of the insurance industry to determine how consolidation of independent brokers, insurance companies and the re-insurance((The Reinsurance market is the insurance market for insurance companies. This looks like a solid paper on the reinsurance market.

))

market is affecting us. They should also determine if there are anti-competitive actions that are leading to the merger wave of independent insurance brokers.

The Competition Bureau needs to ban any future mergers between insurance companies, and lower the threshold for merger reviews at the brokerage level.

The Federal Government needs to complete another major investigation into the financialization of insurance companies, and whether we need to reinstate legislation separating insurance companies from banks and other investment firms.

We need to talk about the impact on insurance industry consolidation has affected the affordability of housing.
As always, reply to this email to share your experiences with insurance brokers or insurance companies. Or if you want to talk about housing, small towns, or brainstorm ideas let me know. Only good things come from conversations.
~Andrew